A Virtual Travel Adventure in Israel
ABOUT THE TOUR: Enjoy a side of Israel you've never seen with the help of a licensed Tour Guide. Join a "busload" of your friends or students and experiences the thrills of Israel right from your very own home. Explore biblical and modern Israel, sites famous and off the beaten path, JNF projects and hidden gems. See the Old City of Jerusalem, Ayalon Institute, Rosh Ha'Nikra, Akko, JNF's Sderot Indoor Recreation Center, Be'er Sheva, Timna Park, and more without even leaving your house! We will gladly work with you to customize your trip and itinerary to your specifications.
Crafted in response to the communal needs for Jewish teen engagement, Israel advocacy and community service, on this journey, teens learn how the history of the land and its people allowed Israel to become a global leader in innovative social and environmental approaches, and how these approaches are rooted in the values of Judaism. Roots Israel is based on an expansion of Jewish National Fund's successful Alternative Break and Volunteer Vacation models. Participants plant trees, spend time on farms, work with disabled soldiers in the Negev, and help beautify a Bedouin community. Additionally, following the Alexander Muss High School in Israel model of experiential learning, the trip integrates educational elements, teaching the rich history that made the land of Israel what it is today.
On Roots Israel you will have the opportunity to:
*      Plant a garden
*      Build a nature path for the disabled
*      Spend an afternoon sheep herding
*      Earn community service hours
*      Make new friends
*      Repair the world
All this while touring our ancestral homeland and digging deep into Israeli and Jewish history. Fill your soul with the spirit of tikkun olam, do good, learn some and have the best summer ever!
To learn more or register, contact  info@ RootsIsrael.org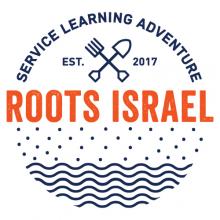 Focus
Environmentalism, Hiking, History, Israel, Outdoors, Social Justice, Volunteering / Service-Learning