Join us for a weekend of fun, community and learning for and by Jewish LGBTQ and ally teens! Meet new friends, learn about LGBTQ organizing and identities, and celebrate Shabbat with a warm, vibrant community of LGBTQ and ally teens and adults.
These peer-led Shabbaton weekends of learning, Jewish ritual, and community building are open to LGBTQ and ally Jewish teens grades 8-12.
Registration costs $54, including programs, meals, lodging, and group transportation from select points (more information here.)  Limited scholarships are available for airfare and registration costs.  Contact us at youth@keshetonline.org for more information.
Women and Girls Shabbaton:  May 31-June 2, 2019, Camp Avoda, Middleboro, MA.  Registration will open in early February 2019.  Open to participants in grades 8-12 who identify as women and girls.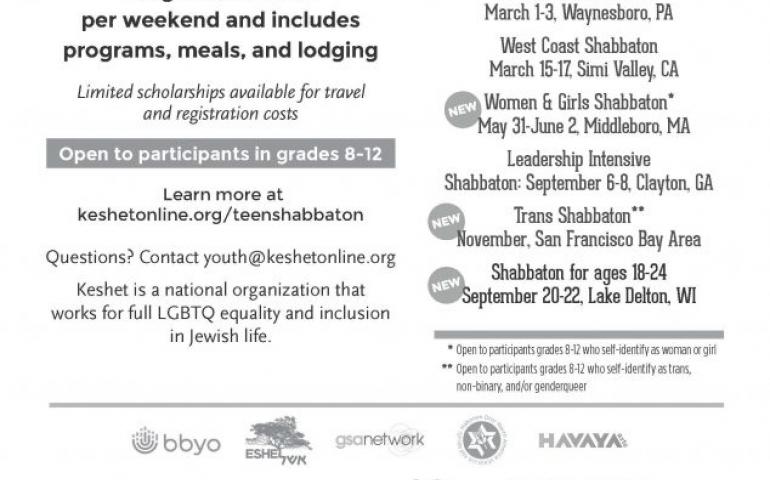 Location
NY-New York City / Westchester / Long Island, US-Mid-Atlantic, US-Midwest, US-Northeast, US-Pacific Northwest, US-Southeast, US-Southwest, US-West
Additional Cost Information
Participants are asked to pay a $54 registration fee, as well as cover their travel costs. We do have limited schoalrships available to help defray the cost of travel and registration. Please contact Justin Rosen Smolen, Keshet's National Director of Youth Programs, at justin@keshetonline.org or (646) 838-4429 for more information.
Focus
Advocacy, Jewish Study, Social Justice